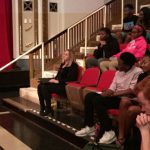 A group of teens are planning to take a more active approach to defeat violence among African-American youths in Nashville.
Hume-Fogg Academic Magnet High School students hosted a panel with Nashville community leaders at the Grand Masonic Lodge of Tennessee Thursday evening.
"It's a call to action panel to see, one, what they think about what's going on, and two, what is it that we need to do to fix the problem?" said Aniya Milford, a Hume-Fogg senior and president of Black Americans United. "It's basically to get everything put on the table so that everybody has a clear understanding of what is expected of them."
Black Americans United is the club that sponsored the event featuring Metro police Chief Steve Anderson, Councilman Freddie O'Connell, Metro schools Director Shawn Joseph, and juvenile court Judge Sheila Calloway.