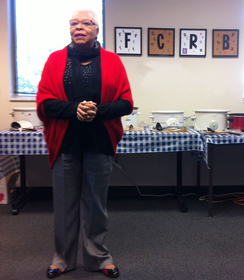 It was a battle of the chilies at the Davidson County Juvenile Justice Center on Nov. 13 as almost 20 staff members competed for the grand prize in the Charles Campbell Annual Chili Cook Off.
A PENCIL staffer was among the three judges who tasted each entry in the mild, medium and red-hot categories and rated them for taste and appearance. After the winners were named, dozens of Court employees lined up for a giant chili lunch.
The contest began years ago as the brainchild of Mr. Campbell, who was a passionate supporter of public education and PENCIL, and the tradition continues with Mrs. Campbell's participation each year. All the proceeds from the lunch tickets will support the Court's PENCIL Partnership with Stratton Elementary School. Each year, the Court helps with holiday gifts and the school's spring field day. Thanks to everyone at the Juvenile Justice Center!