Kathy Sinback, Court Administrator & Media Contact
Phone: 615-880-2376 Direct, 615-310-7132 Cell | kathrynsinback@jisnashville.gov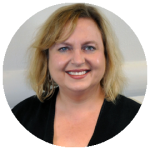 Kathy has been with the Metropolitan Government since 1997. She began her career as an attorney with the Metropolitan Public Defender's Office, where she represented youth in delinquency cases and specialized in juvenile transfer litigation. She then moved to the Metropolitan Department of Law, where she served as senior legal advisor to the Metropolitan Nashville Public Schools. During Kathy's time at Metro Legal, she also served as legal advisor to the Metropolitan Courts, the Metropolitan Nashville Police Department, the Mayor's Office of Emergency Management, and other Metro departments, boards, and commissions. Through these various positions, Kathy witnessed firsthand the root causes of delinquency in Nashville, such as poverty, school absenteeism/ suspensions, mental health issues, family conflict, addiction, and trauma. Kathy was brought on board to serve as Juvenile Court Administrator by Judge Sheila Calloway in 2014.
As Juvenile Court Administrator, Kathy helps ensure that Juvenile Court procedures are aligned with evidence-based best practices. In addition to overseeing the programs of Juvenile Court, Kathy serves as Juvenile Court's public information officer. She also collaborates with Metro and community agencies to promote policy reforms to decrease delinquency and increase public safety. A primary area of focus is enhancing educational and behavioral supports in the schools for children and youth who have experienced trauma and Adverse Childhood Experiences.
Kathy was a member of the Tennessee General Assembly's Blue Ribbon Task Force on Juvenile Justice in 2017. She currently serves as the Co-Chairperson of the Alignment Nashville Action Team on Student Discipline; Co-Chairperson of the Early Intervention Work Group of the Davidson County Community Mental Health Systems Initiative; and Chairperson of the Court Improvement Committee of the Tennessee Joint Task Force on Children's Justice and Child Sexual Abuse. Kathy is a 2019 recipient of the Founder's Award from End Slavery Tennessee for her work in bringing attention to the problem of human trafficking in Tennessee.
---
Magistrate Alan Calhoun
Phone: 615-862-8083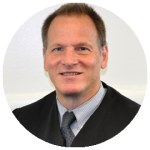 Magistrate Calhoun has served since his appointment to the bench in October of 2002. His current duties include presiding over cases of neglected and abused children as well as juvenile delinquency. Magistrate Calhoun also supervises the Family Treatment Court and Juvenile Recovery Court programs.
Magistrate Calhoun received his B.A. from Duke University in Political Science in 1989. He received his J.D. from the UCLA School of Law in 1994. After graduation from law school, he accepted employment with the Metropolitan Public Defender's Office in Nashville, TN where he remained until his appointment as a magistrate. While at the Public Defender's Office, he practiced adult criminal defense for the first four years of his employment. He was then offered a lateral transfer within the office as the newly created position of Metro Guardian Ad Litem, a position he held immediately prior to coming aboard with Juvenile Court. In this capacity, he represented children's best interests in child welfare proceedings before the Juvenile Court.
Magistrate Calhoun resides in Nashville with his family.
---
Magistrate Jerice Glanton
Safe Babies Court
Phone: 615-862-8073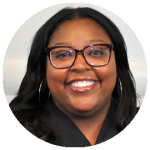 Jerice Le'Tay Glanton was born in Nashville, Tennessee in 1984 to loving and devoted parents, Jerry & Wanda Glanton. The middle child of 4 siblings, she grew up in East Nashville and attended Martin Luther King, Jr. Magnet High School. She went to college at the University of Tennessee at Chattanooga and finished her legal education at the University of Tennessee School of Law. During her time in Law School, she interned with the Polk County Juvenile Law Department in Des Moines, Iowa. She has worked as a Personal Injury Attorney, E-Discovery Attorney, and Child Advocate since 2010.
As a young child Jerice knew she wanted to help people, so as an adult she decided to mix her passion of mentoring youth with law and became a Child Advocate. She currently mentors youth through her church, Silver Springs Baptist Church and young ladies through Delta Academy for the Nashville Metropolitan Alumnae Chapter of Delta Sigma Theta Sorority, Inc. Through her work at Silver Springs and Delta Sigma Theta Sorority, Inc., she has proven to be an asset through her leadership, bubbly personality and enthusiasm to mentor youth, especially young girls.
---
Magistrate Carlton Lewis
Phone: 615-862-8073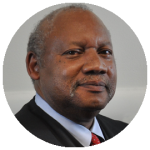 Carlton Lewis attended Carson-Newman College, receiving a bachelor's degree in History and Political Science, and graduated from Nashville School of Law in 1985. After serving as an Assistant Metro Public Defender from 1986-1991, he was in private practice with the Law Firm of Petway, Blackshear & Cain until September, 1998, when he was appointed Referee (Magistrate) at the Davidson County Juvenile Court. Magistrate Lewis has regularly heard cases involving delinquency, dependency and neglect, and has heard cases involving termination of parental rights, transfers to criminal court, and voluntary surrenders of parental rights.
Magistrate Lewis served three consecutive terms as a member of the Tennessee Commission on Children and Youth; and he served as the Executive Director's designee to the Tennessee Second Look Commission; a body created by the Tennessee General Assembly to make recommendations that will reduce second and subsequent incidents of child abuse.
Magistrate Lewis serves as in instructor in Juvenile Law and Procedure at Nashville School of Law, where he was honored with the Distinguished Faculty Award in 2015. He has volunteered as a judge in mock trial competitions with the Nashville Bar Association, Vanderbilt University School of Law, and Belmont School of Law. He is a former member of the Harry Phillips Inn of Court, and previously served as a student mentor with the Belmont University Law School Inn of Court.
Magistrate Lewis and his wife have two adult sons and three grandsons.
---
Magistrate J. Michael O'Neil
Phone: 615-862-8073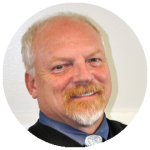 Magistrate O'Neil has served on the Davidson County, Tennessee Juvenile Court Bench since 1998. He holds a Bachelors Degree in Anthropology from Vanderbilt University and is an Honors Graduate of the University of Tennessee, College of Law. Prior to his appointment to the bench, Magistrate O'Neil practiced law with a commercial litigation firm in New Orleans, Louisiana and was also a solo practitioner. Magistrate O'Neil has received additional training at the National Institute for Trial Advocacy, the National Judicial College, and the Lipscomb University Institute for Conflict Management.
He is married and is the father of two.
---
Magistrate Julie Ottman
Phone: 615-862-8998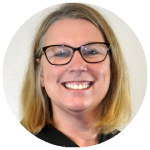 Magistrate Julie Ottman received her Bachelor of Arts degree in 1994 from Marquette University. She received her Juris Doctor in 1998 from the University of Detroit, Mercy School of Law. After graduating from law school, Magistrate Ottman moved to Nashville, TN and was appointed as Assistant General Counsel for the Tennessee Department of Children's Services. In that capacity, Magistrate Ottman prosecuted dependent-neglect and abuse cases on behalf of the State of Tennessee. In 2003, Magistrate Ottman was hired as an Attorney for Policy Studies Incorporated where she remained until her appointment as a Juvenile Court Magistrate in 2011.
---
Magistrate Melinda Rigsby
Phone: 615-862-8095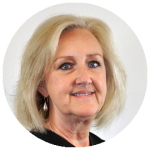 Magistrate Rigsby was appointed to the bench on December 3, 2012 by Judge Sophia Crawford. She presides over juvenile delinquent cases as well as cases involving neglected and abused children.
Magistrate Rigsby received her B.S. in psychology from Middle Tennessee State University and held a teaching certificate. She received her J.D. degree from Nashville School of Law. Prior to her appointment to the bench, she was a prosecutor in the Davidson County Office of the District Attorney for 17 years. She served as Team Leader for the Juvenile Court Prosecution Team and also prosecuted cases in the General Sessions Courts.
Melinda Rigsby is a Nashville native.
---
Magistrate Paul Robertson
Phone: 615-862-8073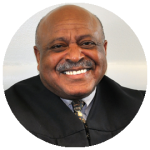 Paul E. Robertson is a graduate of Tennessee State University, Louisiana State University Graduate School of Banking and the Nashville School of Law. He has specialized in Juvenile and domestic law since 2006. He has served as a Magistrate since 2013.
Magistrate Robertson was employed for 30 years in the banking and regulatory fields and retired as Assistant Deputy Comptroller with the U. S. Treasury Department, Office of the Comptroller of the Currency with responsibilities for regulatory supervision of 26 nationally chartered community banks within 5 southern states. He also served as a southeast district Bank Information Systems manager for the Office of the Comptroller of Currency and recipient of the Southeast District Managers Leadership Award.
Magistrate Robertson formerly served on the Board of Directors of Traders National Bank, Tullahoma, TN and was a CASA volunteer for several years.
As a member of the First Baptist Church, Capitol Hill, Magistrate Robertson served on the Board of Trustees for over thirty years and most recently as the Chair of the Board and Church Administrator. Magistrate Robertson has been married to Diane J.P. Robertson and they are the parents of three children.
---
Magistrate Scott Rosenberg
Phone: 615-862-8008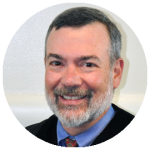 Magistrate Scott Rosenberg is a 1990 graduate of the Nashville School of Law. He began his legal career with the District Attorney General's office in Davidson County in the Child Support Division. In 1993 he was hired by the law firm of Joyce, Meredith, Flitcroft and Normand to handle child support cases. In his role as a child support prosecutor Magistrate Rosenberg had primary responsibility for URESA and Bankruptcy cases. Magistrate Rosenberg began private practice in 1997. His practice focused mainly on Domestic Relation cases. In 1998 Scott was appointed as the first Special Prosecutor for Domestic Relations cases by General Victor S. "Torry" Johnson. In 1998 Scott was also appointed as a Referee of the Davidson County Juvenile Court by Judge Betty Adams Green and was re-appointed in 2006.
Throughout the years Magistrate Rosenberg has served on several committees relating to child support issues at the local, state and federal levels. Magistrate Rosenberg served on the Department of Human Services 2005 Child Support Guideline Advisory Committee and the Department of Human Services 2006 Enhanced Child Support Enforcement Committee. In 2009 Magistrate Rosenberg was invited to become a member of the National Judicial Child Support Task Force under the Federal Office of Child Support Enforcement.
In 2016 Magistrate Rosenberg was instrumental in founding the Nashville School of Law Juvenile Court Custody Clinic. The clinic provides practical legal experience for the students and legal representation for many unrepresented Juvenile Court litigants.
---
Magistrate Jennifer Wade
Director, Metro Student Attendance Center
Phone: 615-862-6722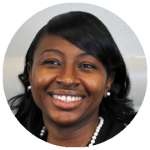 Magistrate Wade is no stranger to Davidson County Juvenile Court. She began her career at Juvenile Court as an intern while attending Tennessee State University. Upon graduation from TSU in 2004, summa cum laude, she started as a Family Services Probation Officer here at Juvenile Court. She worked in that area until 2007, when she decided to attend law school. She attended the Thomas Cooley Law School in Lansing, Michigan. While in law school, she continued her work within the court system working as a Family Dependency Court Case Manager in Kalamazoo, MI, and then as a Legal Extern with the Tennessee Department of Children's Services – Office of General Counsel.
After graduating from Thomas Cooley Law School, Magistrate Wade worked as an Appeals Hearing Officer with the Tennessee Department of Labor and Workforce Development, and an Adjunct Professor of Criminal Justice. She was also the Managing Attorney at the Cane Law Firm, before opening her own law firm. During this time, she practiced mainly in juvenile court where she focused on serving as a guardian ad litem on neglect and dependency case and counsel for students in truancy court. Magistrate Wade also worked as the Employee Relations Manager at the Nashville General Hospital.
Since becoming the Magistrate/Director of the Metro Student Attendance Center, Magistrate Wade has led a team of Social Worker Technicians, Probation Officers and other support staff to ensure that services are provided to students to address barriers to good attendance and to strengthen the long-term outcomes for the youth served.