LEADING THE WAY to PREVENT Problems, PROMOTE Positive Potential and PURSUE Fairness and Hope
Nashville-Davidson County's Juvenile Court Judge Sheila Calloway, the Juvenile Court Magistrates, and the employees of Juvenile Court welcome you. Together we are responsible for making sure that every child and parent who passes through our court is met with justice, fairness, and hope. As described by Tennessee Code Annotated Section 37-1-101, the purpose of juvenile court is: "To provide for the care, protection, and wholesome moral, mental and physical development of the children coming within its provisions." Using evidence based programs and services, Nashville's Juvenile Court and the youth and families it serves are LEADING THE WAY.
Committed to Best Practices
Davidson County Juvenile Court is committed to bringing our probation services in line with national best practices – click to read more…
Juvenile justice plan would shrink number of youths in detention
Gov. Bill Haslam's plan to reform juvenile justice would shrink the number of young offenders in detention centers and would lead to shorter sentences for some lower-level offenses.Haslam's office filed legislation Wednesday that outlined the contours of the strategy he hinted at during his State of the State address on Monday. It is paired with $4.5 million in Haslam's budget for resources in rural pockets of the state.Administration officials say the changes proposed in the Juvenile Justice Reform Act of 2018 would keep more kids out of the system and would reduce the likelihood that they would commit crimes as adults.
Teachers Need Another Kind of Training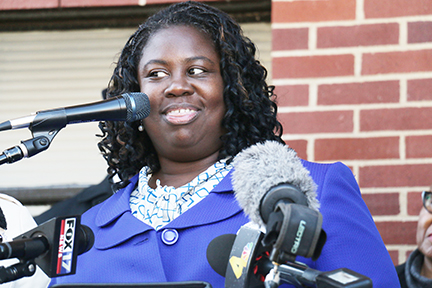 NASHVLLE, TN — Sixteen Metro School students have died in the last twelve months. While none of them died on school grounds, hundreds have been suspended from school.
When you suspend a child they go home and a lot of times when they are home they are unsupervised. When they are unsupervised and they have time to think of things to do. If they don't have positive influences in their lives, they tend to do negative things ……and they end up in the court system," said Juvenile Judge Sheila Calloway.
That means those kids miss more school. When they return, they are behind and tend to disengage from learning in the classroom. And then they act out.
"Once their behavior starts showing that's when the suspensions start all over again and you end up in a vicious cycle that lands that child in the prison system," Calloway said.
GRANT Opportunity:  Community Partnership Fund – Youth Violence Reduction Priority
Request For Proposals CLICK HERE
Forgiveness In The Criminal Justice System | Judge Sheila D.J. Calloway | TEDxNashville
Is it possible to have forgiveness in the Criminal Justice System? With a system of Restorative Justice, all of those who were harmed (victims, families, community) have an opportunity to collectively work with offenders to achieve both accountability and restoration moving everyone towards forgiveness.
Sheila Calloway, a native of Louisville, KY, came to Nashville, Tennessee in 1987 to attend Vanderbilt University. She received her Bachelor of Arts degree in Communications in 1991 and her Doctor of Jurisprudence in 1994 both from Vanderbilt University. After graduating from law school, Sheila Calloway worked at the Metropolitan Public Defender's Office in both the adult system as well as the juvenile system. In January 2004, she was appointed by Judge Betty Adams Green to the position of Juvenile Court Magistrate and served in that position until November 2013, when she announced her intention to run for the position of Juvenile Court Judge. She was elected Juvenile Court Judge in August 2014. She serves as an Adjunct Professor at Vanderbilt University where she teaches both in the Undergraduate and Law Schools.
Jurisdiction
The following are types of cases Juvenile Court hears that fall within the municipal boundary of Davidson County.
Status Offenses: acts that are against the law only for minors (drinking alcohol, using tobacco, curfew violation, skipping school, running away, being unruly, etc..).
Dependency, Neglect, Abuse: when the health or safety of a minor is seriously threatened or if there is a possibility of the minor leaving the jurisdiction to avoid a court date. A minor may only be taken away from his family if there is no other way to ensure their safety.[TN Code 37-1-101 (a)(3)]
Parentage, Visitation and Child Support: cases involving the parents of children, including custody hearings and court ordered child support.
Delinquency: acts that would be crimes if committed by adults (traffic violations, theft, assault, disorderly conduct, vandalism, etc..).