LEADING THE WAY to PREVENT Problems, PROMOTE Positive Potential and PURSUE Fairness and Hope
Nashville-Davidson County's Juvenile Court Judge Sheila Calloway, the Juvenile Court Magistrates, and the employees of Juvenile Court welcome you. Together we are responsible for making sure that every child and parent who passes through our court is met with justice, fairness, and hope. As described by Tennessee Code Annotated Section 37-1-101, the purpose of juvenile court is: "To provide for the care, protection, and wholesome moral, mental and physical development of the children coming within its provisions." Using evidence based programs and services, Nashville's Juvenile Court and the youth and families it serves are LEADING THE WAY.
Committed to Best Practices
Davidson County Juvenile Court is committed to bringing our probation services in line with national best practices – click to read more…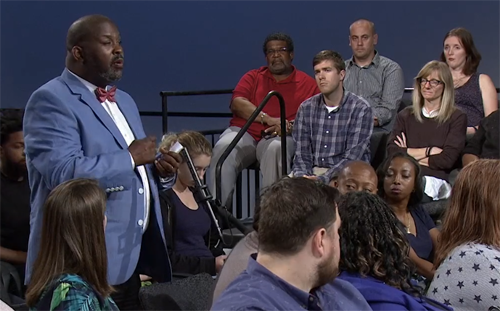 NPT REPORTS: TOWN HALL
Youth & Violence | September 6, 2018 | Episode 9
NPT's Youth & Violence Town Hall, a community forum about a public health crisis concerning Middle Tennessee's young people.
Lonnell Matthews, Jr. sworn in as Davidson County Clerk

The recent combined investiture ceremonies for both Lonnell Matthews, Jr. and Avery Patton will be remembered for some time to come. Matthews was confirmed as the new Juvenile Court Clerk, and Patton was confirmed as Director of Operations for the Juvenile Court Clerk office.
The Juvenile Justice Center lobby was packed with family, friends, guests and other elected officials supporting both honorees. Judge Sheila D.J. Calloway handled their swearing in and pledge to serve their positions to the fullest capacity. Distinctive remarks and words of wisdom and genuine support were shared by well wishing colleagues and others who could fit into the time frame given for the event.
Ex-gang member inspires Vanderbilt football player to help impoverished Nashville kids
It only took the tear-jerking story of a 16-year-old former gang member to put Vanderbilt linebacker Charles Wright into action.
Hearing those few words sparked Wright to bring together Vanderbilt teammates, students, juvenile corrections officers, two churches and good-hearted Nashville residents to help impoverished kids with school supplies and backpacks during his offseason from football.
"A boy told me that in his whole life no man had ever invested anything in him for school," said Wright, who spent his early childhood in foster care.
Newsmaker: Jennifer Wade, Davidson County Juvenile Court Magistrate
NASHVILLE, Tenn. (WKRN) – Juvenile Court Magistrate Jennifer Wade is working to end the School to Prison Pipeline in Davidson County.
Wade appeared on News 2 at 11. Her team is working with the public schools and police to figure out a way to eliminate some of the arrests, suspensions, and expulsions of elementary school children. They hope to better equip teachers to handle non-violent disruptions so that young children don't end up in court.
First-of-its-kind program aims to stop youth, gang violence in Tennessee
NASHVILLE, Tenn. (WZTV) — A first-of-its-kind program in Tennessee is offering at-risk youth that are in the court system a chance to leave the gang life.
Efforts from law enforcement across the state continue to target young people prone to entering the gang life. These efforts come as an alleged gang member pleads guilty to second-degree murder for the 2015 killing of 13-year-old C'Asia Patton.
The Gang Resistance Intervention Program — also known as GRIP Court — pairs young offenders with probation officers and mentors that become guiding forces in their lives. By providing some consistency in the teens' lives, GRIP Court aims to create a culture of trust between teen and justice system, something that is missing in the lives of young men skeptical of authority.
Coalition Created To Combat Youth Violence In Nashville
NASHVILLE, Tenn. – Nashville community leaders have created a coalition to combat the increasing problem of youth violence in Nashville.
Thursday evening, dozens of people gathered to discuss what can be done to stop the violence among Nashville's youth.
The meeting was held at the Metro Health Department. Representatives from the Juvenile Justice Center, Metro Health Department, District Attorney's Office, Mayor's Office, church leaders, Public Defenders, and Big Brother Big Sister members were all apart of the meeting.
Report: Children brought to court by parents more likely to come back as older juveniles
NASHVILLE, Tenn. (WKRN) – Data analyzed by a Vanderbilt University student suggests children who enter the Juvenile Justice court system as parties to adult cases are more likely to come back later as juvenile delinquents.
Vanderbilt student Brett Richey analyzed the data for her senior thesis. She looked at data from 2003 and found more than one out of four children who are brought to court through no fault of their own will later come back as juveniles facing charges.
"I was shocked by what I found," said Richey. "It was something that was talked about a lot in the court. People who work with these children every day know that is true but it had never been really studied empirically before."
Nashville sees more young children charged with crimes
NASHVILLE, Tenn. (WKRN) – The ages of two children recently arrested and charged have people around the country surprised and asking questions.
In less than two months, two 12-year-olds have been charged with felonies in two separate, violent incidents.
Monday night, a 12-year-old was arrested and charged with a number of felonies after Metro police said he tried to carjack a woman outside of a Midtown dance studio. Another juvenile is still on the run.
On New Year's Eve, a 12-year-old was charged with criminal homicide after she allegedly accidentally shot and killed her 16-year-old friend with a stolen gun.
These children are hardly alone in their arrests.
Thirty-four children, aged 12 or under, were arrested and charged with at least one felony from January 1, 2017 to February 21, 2018.
In 2016, 24 children aged 12 or under had been charged with at least one felony.
A felony in Tennessee can range from theft over $1,000 to murder. After they're charged, the children often end up in custody in the juvenile detention center.
"It's very difficult for us to house children age 12 and under," Judge Sheila Calloway told News 2. "If you're combining them with older youth who have done some serious offenses, it can be counterproductive for having a child come to a detention facility."
Juvenile justice plan would shrink number of youths in detention
Gov. Bill Haslam's plan to reform juvenile justice would shrink the number of young offenders in detention centers and would lead to shorter sentences for some lower-level offenses.Haslam's office filed legislation Wednesday that outlined the contours of the strategy he hinted at during his State of the State address on Monday. It is paired with $4.5 million in Haslam's budget for resources in rural pockets of the state.Administration officials say the changes proposed in the Juvenile Justice Reform Act of 2018 would keep more kids out of the system and would reduce the likelihood that they would commit crimes as adults.
Teachers Need Another Kind of Training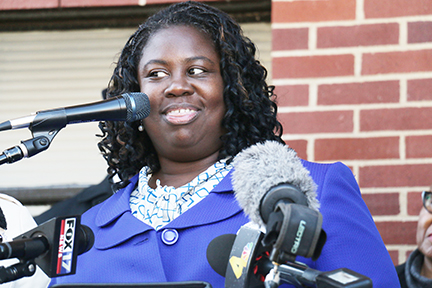 NASHVLLE, TN — Sixteen Metro School students have died in the last twelve months. While none of them died on school grounds, hundreds have been suspended from school.
When you suspend a child they go home and a lot of times when they are home they are unsupervised. When they are unsupervised and they have time to think of things to do. If they don't have positive influences in their lives, they tend to do negative things ……and they end up in the court system," said Juvenile Judge Sheila Calloway.
That means those kids miss more school. When they return, they are behind and tend to disengage from learning in the classroom. And then they act out.
"Once their behavior starts showing that's when the suspensions start all over again and you end up in a vicious cycle that lands that child in the prison system," Calloway said.
Jurisdiction
The following are types of cases Juvenile Court hears that fall within the municipal boundary of Davidson County.
Status Offenses: acts that are against the law only for minors (drinking alcohol, using tobacco, curfew violation, skipping school, running away, being unruly, etc..).
Dependency, Neglect, Abuse: when the health or safety of a minor is seriously threatened or if there is a possibility of the minor leaving the jurisdiction to avoid a court date. A minor may only be taken away from his family if there is no other way to ensure their safety.[TN Code 37-1-101 (a)(3)]
Parentage, Visitation and Child Support: cases involving the parents of children, including custody hearings and court ordered child support.
Delinquency: acts that would be crimes if committed by adults (traffic violations, theft, assault, disorderly conduct, vandalism, etc..).