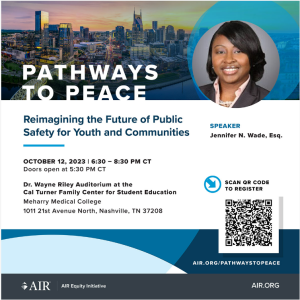 The AIR Equity Initiative invites you to join its first Working at the Intersections public symposium. At Pathways to Peace: Reimagining the Future of Public Safety for Youth and Communities, the AIR Equity Initiative will unite youth, community leaders, policymakers, researchers, and practitioners for conversations on the urgent topic of youth justice and public safety in Nashville and beyond.
Moderated by Aloe Blacc, Grammy-nominated musician, philanthropist, and advocate, the symposium will promote cross-sector dialogue and highlight community-driven, evidence-informed approaches to reducing violence, equipping youth to thrive, and fostering justice and public safety in communities.
Juvenile Court Administrator, Jennifer Wade, Esq., will be a featured presenter during the symposium.
Community members, including young people, are welcome and encouraged to attend this free public event.
To register: https://www.eventbrite.com/e/713909782377?aff=oddtdtcreator